DON'T WAIT FOROPPORTUNITY, CREATE IT.
We're a great place to shop because someone like you decided we're a great place to work. Are you ready to help us build what's next?
Click a job to read more and apply online.
Click the button below to view all jobs and apply online.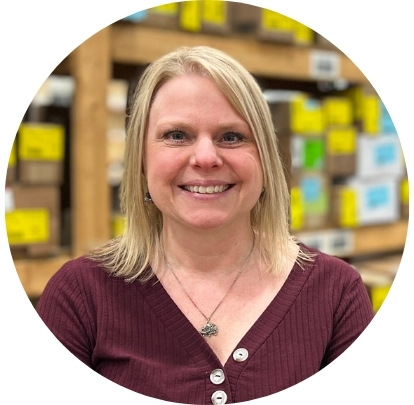 Caroline AndereckDirector of Operations

Superstar since 2014



Rachel AnyansiOperations Support Specialist

Superstar since 2018



Becky GraffService Support Manager


Superstar since 2009
"When I first started in the Customer Service department, I was here for a paycheck because I thought this would only be a job in-between career moves. But I quickly realized that Sherman's offered so much more. One of the things that make this company stand out is their focus on personal growth. They happily invest in their employees by adding internal programs such as the Mentorship Program, 1:1's, and even book clubs. I would describe the atmosphere here as supportive. I can honestly say that I have never once felt undervalued."
"I was looking for a fresh start in my career. When I found the job online through the Sherman's website, it was exactly what I needed! Sherman's is not your normal company though. There's always something new happening. We're growing fast and constantly trying to get better and improve. I would describe the environment at Sherman's as flexible, fun, and helpful. When you start at Sherman's, be ready to make the job your own. Come with a can-do attitude and you will accomplish so much."
"I started my journey at Sherman's in the Customer Service Department. Soon after, I noticed a niche within the service department that needed more personalized care, so I took it on.

Through that process, I discovered that Sherman's culture is very inviting. You are welcome to share your ideas because they are open to listening. I've never worked for a company that cares as much as Sherman's. They genuinely want to make their customers and employees happy. This company feels like a family. I feel like I belong and I'm proud to work here.

"
The key to taking care of your customers and keeping a positive work environment is through the practice of our Core Values.

​

As a Sherman's employee, you will be expected to respect yourself and respect others. We regularly review the Core Values and will measure much of your success on your ability to grasp and exemplify them on a daily basis.
What is Sherman's interview process like and how long does it typically take?
How do I know which job will fit my skills, and what is the best way to express my interest?
Our interview process is pretty simple. If you've been selected to move further along in the interview process, you will be contacted via email to do a phone interview. If all goes well, you'll receive an email scheduling you for an in-person interview with a couple of our hiring managers. The entire process generally takes about 2-3 weeks.
Each job posting includes the essential functions of a job. These include necessary skills, important tasks, and other details of the day-to-day of the job. To be considered for a job at Sherman's, you must submit an application online.
What's the culture like at Sherman's?
How can I check my application status?
When people ask us about the culture at Sherman's, we always share what our employees say; "you're not treated like another number here and you can feel it." People really strive to do their best and there's a strong emphasis on teamwork and achieving your best. There's a willingness to share knowledge and help each other out. It's that openness that we think makes us unique.
You will receive a confirmation email once your application is submitted. After that, any additional communication will be done through email. Communication will also be received via text if you choose to accept to receive text messages from Sherman's regarding your status in the hiring process.
*We recommend checking your Spam/Junk folder for any initial emails from us.
What kind of growth opportunities are there at Sherman's?
We believe in providing endless opportunities for our employees. To achieve this goal, we provide in-house training, a mentorship program, and monthly 1-on-1's, among other programs, where employees can hone in on ways to improve existing capabilities and develop new skills.
We believe in doing what we say. We believe in helping people thrive, regardless of their education or experience. We believe you don't have to give up good service to get low prices.We believe the best local stores can also be the best online stores. We believe supporting our local communities gives us purpose. We believe we have the power to improve people's lives. We believe in underdogs.We believe in knowing and accepting whole people, and playing to their strengths.We believe in encouraging, supporting, and celebrating diverse voices. We believe good ideas can come from anyone, anywhere, and at any time.We believe in celebrating the remarkable.

We believe

being proud of your achievements is a good thing.


We believe the struggle of trying to be the best can actually make us the best. We believe in taking bold action, especially when people think we're crazy for it. We believe in being better 2-MAR-OH than we are today. We believe in listening. We believe customer service should be personal and in-house. We believe in empowering people to achieve things on their own.We believe in owning and correcting our mistakes. We believe in facing the facts as they are, not as we wish they were.We believe shopping should be fun and make you happy. We believe you'll be happy you chose Sherman's.
Wow, thanks for reading this far!
You seem really interested and should probably just go ahead and:
Or if you need to contact us:
1203 E. Marietta Ave
Peoria Heights, IL 61616
​​
Tel: 309-691-4100
​​
HR@shermansnow.com
Copyright © 2021 Sherman's